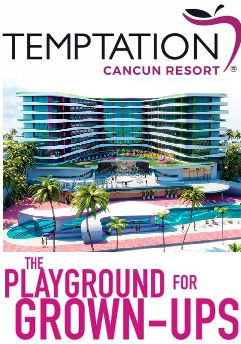 Temptation Resort Spa
Cancun, Mexico

| Temptation Home Page | Whats Included | Room Amenities | Restaurants & Bars Experiences | Events Calendar | Nightly Entertaiment | FAQs |
Experience up close and personal, our unique, one-of-a-kind Playground for Grown-Ups, 21+. Brace yourself for a whole new level of electrifying, adult vacationing! While playing at our adult-centric, superior all-inclusive, topless-optional resort, you will enjoy a sense of freedom and empowerment you never knew existed, and not to mention an insanely sexy amount of fun. You will find yourself being seduced by all that our unique, signature playgrounds have to offer. Try something new, something you have never experienced before, go topless! You won't have to worry about poorly fitting bathing suit tops and funny tan lines ever again when living your topless-optional dream, at the most provocative open-minded beach in the Caribbean. Throughout the day feel the electrical currents pulsate through Free your spirit & find your fun, at our unique "Playground for Grown-Ups" … a refined, elevated, original concept. Let your hair down and accessorize your favorite suit… Feel trendy and act provocative while living an enhanced, personalized guest experience including the highest international hotel standards and ground-breaking design, complemented by riveting entertainment, global gastronomy and luxurious accommodations.

Temptation Adults Cancun Resort are beautiful All Inclusive Couples Resort catering to mostly to 25-45 playful adult couples and singles. Temptation Cancun has vast public areas, multiple Topless Optional pools, private beach, many restaurants, boat docks and non-stop activities and fun at the pool and in the game room. The In-House night club can really pack them in ... and all of the most popular night clubs are just a VIP bus ride from the lobby. You are always treated like royalty at Temptation Cancun Resort. For topless optional ambiance, guests can choose whether to engage in the excitement or just stay away from the crowds and enjoy romantic moments in the jacuzzi of the quiet pool. With adults only Resort oriented shows and games, our professional nightly entertainment will dare you not to be tempted. Either with your partner or with friends, Temptation Cancun Resort Spa will provide you with infinite options to enjoy your, soon to be, most fun vacation ever.


Book Now and get advantage for early promotions !!!